President of People's Republic of China, Mr. Xi Jinping, visited Poland and Chairman Mr. Zeng spoke on LiuGong's Development in Poland
22.06.2016
President of People's Republic of China, Mr. Xi Jinping arrived in Warsaw on Sunday June 19th for a three-day State visit to Poland. This was the first official visit by the Chinese head of state to Poland in 12 years. Mr. President was accompanied by a delegation of government officials and businessmen from China. Purpose of the visit was to further strengthen the relationship between the two countries and accelerate the development.
The visit of President Xi proves the increasing role of cooperation between Poland and China. According to the Central Statistical Office of Poland (GUS) and National Bank of Poland (NBP), there are over 880 companies with Chinese capital operating in Poland. China ranks currently as the 23rd country in terms of investment value in Poland, with an accumulated investment that has reached $442.8 million. Poland has been China's largest partner in central and eastern Europe, with trade worth tens of billions of Euros.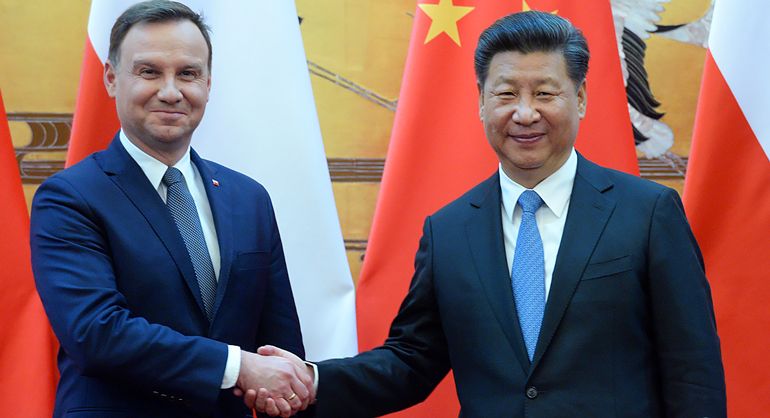 This value is to increase rapidly, especially after the Chinese President Xi Jinping's visit. During his visit, Chinese President said that he sees an important role for Poland as his country looks to increase commercial ties with Europe. Current activity for Poland is mainly due to imports but after the visit, Poland is also hoping to boost its economy by increasing exports to China.
LiuGong has participated in the delegation with the attendance of Chairman of Guangxi LiuGong Machinery, Mr. Zeng Guang`an, President of LiuGong Dressta Machinery, Mr. Wu Yindeng and Assistant President of LiuGong Dressta Machinery, Mr. Hou Yubo.
Mr. Wu Yindeng, President of LiuGong Dressta Machinery in Poland, said the Chinese President's visit is seen as a very exciting opportunity for both China and Poland, as it`s the first visit at Presidential level after 12 years, adding "it will initiate a new era among both countries governmental officials, institutions and private organizations to understand each other better and help to further enhance the development between the two great nations."
During his official visit, the President of China attended the China-Poland Silk Road Business Forum in Warsaw. The forum, organized by the China Chamber of International Commerce, was one of the most important activities during Chinese President Xi Jinping's visit to Poland. The Forum was attended by investment agencies from both countries and representatives of some 60 Chinese enterprises from sectors including construction, aerospace, railway and financial institutions.
LiuGong, as one of the very first Chinese companies that invested in Poland when it acquired Dressta, HSW's civilian machinery division, in 2012 - still the largest investment in Poland for a Chinese corporation - was represented during this major event by LiuGong`s Chairman, Mr. Zeng Guang'an. Chairman Zeng was invited to speak at the forum and shared LiuGong's experience and its development in Poland.
Since the handover, LiuGong has invested around 140 million USD into the new operation, which is now known as LiuGong Dressta Machinery. With the acquisition, LiuGong obtained more than just the manufacturing technology of a full line of crawler dozers; it also gained a foothold to quickly enter the European market. Chairman Zeng Guang'an said, "We are investing and building our operations in Poland and our European headquarters. It includes R&D, purchasing, manufacturing, marketing & sales, service."
"In the past four and half years, LiuGong has invested heavily to build the core success factors to drive business improvement including technology & product line upgrades, quality improvement, risk management, supply chain improvement, marketing promotion, among others. Today, I am very proud to say, that LiuGong's resources and support over the last 4 years have allowed our investments in Poland to recover from near bankruptcy to a viable, globally competitive business", Zeng stated at the forum.
By now, LiuGong's operations in Poland have employed 1,280 people and recruited new talent from inside and outside of Poland. Dressta's footprint has further been expanded and strengthened in North America, Latin America, and Asia Pacific. Meanwhile, joint research & development work between LiuGong's Central R & D in China and the R & D team in Poland has driven rapid advances in both LiuGong`s and Dressta`s technology capabilities.
Meanwhile, LiuGong is also keen to work with the community. In this aspect, LiuGong is cooperating with local colleges to provide internships to the graduates, caring for children's education, etc. LiuGong Dressta has been honored with the FDI Poland Investor Award and the Best Employer Award.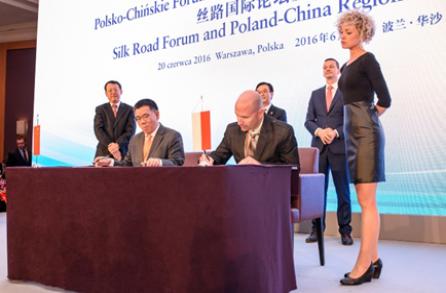 LiuGong Dressta Machinery is one of the very striking milestones of the cooperation between China and Poland and also one of the biggest in terms of value. This partnership was reinforced during the Forum since Mr. Zeng Guangan signed a Memorandum of Understanding (MoA) with the Polish National Research and Development Centre. The MoA signing ceremony was held in the presence of Deputy Prime Minister of the Polish Government, Mr. Mateusz Morawiecki and Mr. Li Wei, President of Development Research Center of the State Council, P.R. China. This will allow LiuGong Dressta Machinery to keep on developing and innovating in Research & Development.