Managing Waste In A Changing World
02.06.2016
China's Waste Challenge
Three decades of rapid population growth and a massive shift towards consumerist lifestyles have left China with a huge urban waste challenge. Across the country, China produces around 300 million tons of waste every year.
In Xi'an, capital of the Shaanxi Province in central China, the question of how to deal with increasing volumes of waste has become critical.
The state-ownedDepartment of Xi'an solid waste disposal runs the only landfill site in Xi'an. When the facility was designed, it was expected to handle up to 3,000 tons of waste per day. Instead, it is dealing with 9,000 tons per day.
With the population of Xian continuing to increase, addressing Xi'an's urban waste challenge seems like a daunting and perhaps unachievable goal - but the department is actually managing very well, thanks in part to smart investments in new equipment.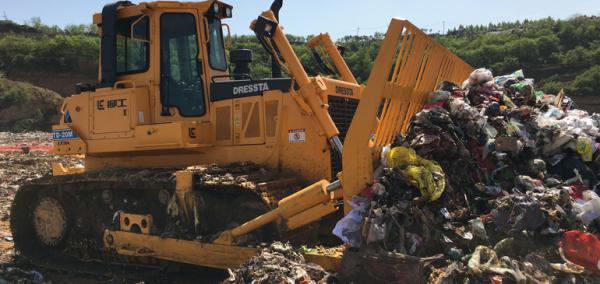 Dressta Rises to The Challenge
Exceptional productivity and dependable reliability are crucial features of the equipment used at the Department of Xi'an solid waste disposal. When they went looking for a new landfill crawler dozer, expectations were high.
The new dozer needed the endurance to keep going day after day in a demanding environment. It also had to offer low ground pressure to cope with soft conditions during the wet season and yet have sufficient weight to help compact waste before applying the daily cover. To achieve daily production quotas at the landfill, the selected dozer needed to meet stringent requirements around leak and corrosion resistance, efficient cooling, easy cleaning of the track system, fast daily maintenance and good serviceability.
In 2014, the Chinese Dressta sales team (LiuGong Changzhou) met with the Xi'an customer to discuss the needs and challenges of the operation. In 2015, Dressta's dealer was awarded the tender to supply the Dressta landfill crawler dozer TD-20M Extra LA.
Built for Success
The Department of Xi'an solid waste disposal was especially impressed by the drawbar pull power, blade capacity, reliability and serviceability of the Dressta TD-20M Extra LA. With its wider track shoes the TD-20M Extra LA is ideally designed for lower ground pressure, and its semi-U blade is well-suited to landfill work.
In the time the TD-20M Extra LA has been at work in the landfill, the Department of Xi'an solid waste disposal estimates it has achieved a massive productivity improvement of 30 per cent over a competitive model.
The Smart Choice for Waste Applications
The Dressta TD-20M Extra LA landfill crawler dozer is specially designed for landfill operations.
It is driven by a reliable Cummins engine that meets EU Stage IIIA emission regulations and develops 179 kW (240 HP) flywheel horsepower.

Clearing the Air
The specially designed landfill model is equipped with turbine type pre-cleaners. The cleaner spins the air entering to the engine intake system and uses centrifugal force to remove contaminants from the air, prolonging the life of the filters, improving fuel economy and extending engine life.

Keeping Cool
The cooling module consists of a charge air cooler (CAC), engine coolant radiator, powertrain oil cooler and hydraulic oil fan drive cooler. The aluminum design of the cooling module aids durability, allows higher heat transfer and has superior corrosion resistance. Cooling module louvered doors are hinged and equipped with quick disconnect latches and pins instead of mounted bolts. This allows fast and easy access for cleaning the cooling module as well enhancing the radiator's cooling ability.

Safety and Comfort
The operator's cab in the TD-20M landfill machine is specially designed to provide the utmost in safety and operating comfort as well as contributing to increased productivity. The six-sided spacious cab features sound suppression and 2-post ROPS protection, and is isolation mounted to provide a comfortable operating environment. An air-suspension seat with a safety belt offers full adjustment and provides substantial reduction of vibrations. The large cab windows and sloped hood provide an excellent view of the mounted equipment and an all-around viewing area.
For extra protection in harsh landfill operating conditions, the model is available with optional screens for the windows and cab lights to protect against damage.
Ergonomically designed joysticks and mounted equipment control are easy and comfortable to operate and offer excellent precision. The operator may use the preset forward and backward travel speed selection for enhanced performance. The automatic downshift function reduces the gear if an increased load is detected, for better productivity.
The sealed operator's cab is equipped with an A/C and an air recirculation system. Recirculated air is filtered through an internal filter located behind the operator's seat while outside air is filtered through an external filter installed below the rear cab window. Overpressure inside the cab prevents outside airborne contaminants from entering.

The Right Blades for the Job
Semi-U or Full-U blades with trash racks are ideal for use on Dressta's landfill crawler dozers, thanks to their large capacities (14.1 & 17.15 cu. m). The trash rack has a steel plate in the center to prevent rods, wires, etc from entering into the radiator area.
Working the TD-20M LA with the heavy Full-U trash rack blade requires the use of an additional counterweight to ensure proper balance.
Dressta also offers the TD-20M LGP LA landfill dozer with the Low Ground Pressure undercarriage and 864 mm wide track shoes. This model is equipped with a straight blade with a trash rack (13.0 cu. m. capacity).
All Dressta landfill dozers are equipped with track shoes with center clean-out holes that reduce the packing of materials between the sprocket and the track chain bushings, which can cause accelerated wear of the track components.

Built Tough for Tough Conditions
Extensive guarding helps protect critical machine components, especially the undercarriage, from being damaged by debris in harsh waste handling environments. Track roller guards keep refuse, brush, etc. out of the rollers and track chain. Sprockets are protected with sprocket rock guards to prevent landfill material from entering between sprocket teeth and track chain bushings. Final drives are equipped with bolted seal guards while striker bars prevent debris from riding up the track and damaging the fenders. Front striker bars, depending upon the dozer size, can be either bar type (STD) or bridge type (LT, LGP). Rear striker bars can be attached to either a ripper frame or to a landfill counterweight box. The standard bolted guard protects the fuel tank and the hydraulic reservoir against damage caused by wires, penetrating rods, sharp materials or other stiff metal pieces which are often found in landfills.

Find out more
Dressta's commitment to quality, reliability and support is making a difference in Xi'an. It can make a difference in your operation, too. Talk to us about whether the TD-20M Extra LA is right for your waste facility.