Liugong North America Introduces New Dressta S-Series Dozers to North America
16.07.2016
Dealers turn out for Houston event.
LiuGong North America, a wholly owned subsidiary of LiuGong Machinery based in Liuzhou, China, introduced the new Dressta TD-8S and TD-9S dozers to North American construction equipment dealers at an event in Houston on June 14th.
The dealers converged in Houston for an in-depth look at LiuGong and Dressta operations and, of course, the opportunity to see the dozers in action. Guangxi LiuGong and LiuGong N.A. executives provided a company overview and corporate perspective while Hakan Ilhan, Dressta's marketing and dealer development director, and Pawel Werens, technical product manager, showcased the equipment's features and benefits. One of the heavy equipment owner and operators who was tapped by Dressta to provide input during the design and development phase of the dozers demoed the equipment at the event.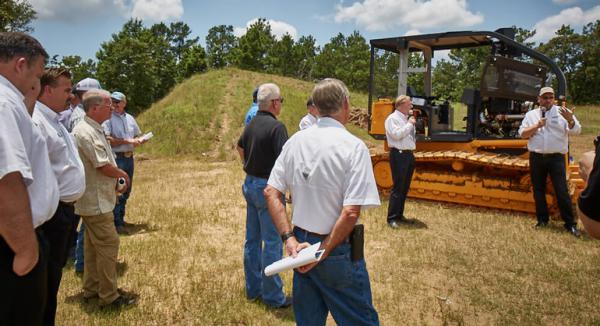 "The new S-Series dozers represent a real reinvigoration of the Dressta brand in North America," said Marcus Menough, director of sales and marketing for LiuGong N.A. "They are industry competitive machines specified for today's performance and operator standards with all features, technical and environmental requirements".
Dealers agreed. "These are very well-designed, strong and robust machines," said Pete Franssen, co-owner of Seattle-based Jet City Equipment, who attended the event. "My criteria for selling a machine is if I would buy one myself. In this case, I would."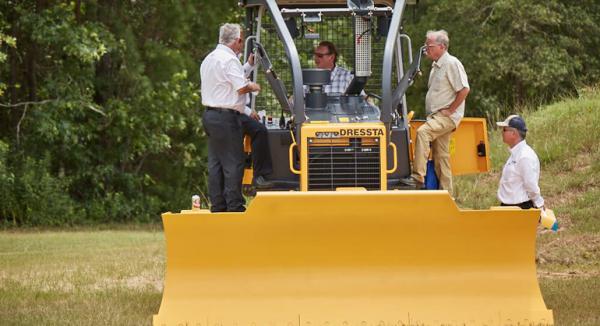 The TD-8S and TD-9S, launched in Europe at BAUMA Munich in April, are powered by environmentally-friendly QSF 3.8 Tier 4 final Turbo-charged Cummins engines, meeting U.S. EPA emission regulations and delivering 94 hp (70kW) and 113 hp (84kW) respectively. They are equipped with Rexroth dual path hydrostatic drive systems that transmit full power to both tracks in all conditions to ensure smooth speed changes, pivot turns and counter rotation. The machines feature a strong six-way C-frame complemented by a robust undercarriage that is available in two options – the standard LT (long-track) version for better stability during driving and leveling and the LGP (low ground pressure) version for use in swampy or muddy terrain. The S-Series dozers are available with integrated technology options of Trimble Basic, Trimble Ready and full Trimble 3D control systems.
Click here for more information about the TD-8S or the TD-9S or contact your nearest Dressta dealer.
For more pictures about the event, please click here