Dressta Demonstrated Industry Solutions at Bauma 2016
31.05.2016
DRESSTA has Presented Never-Before-Seen Products at Bauma, The World's Leading Trade Fair for Construction Machinery from 11-17 April in Munich, Germany.
DRESSTA product line has been refreshed thanks the 'Dressta Force of the Future' campaign. Mr. Zeng Guang'an, Chairman of LiuGong Group and LiuGong Machinery, declared that "the historic Dressta brand has modernized quickly: a substantial investment in R&D and the continual development of a customer-centric approach to both sales and manufacturing"
The result is that five new fuel efficient DRESSTA models made their international debuts at BAUMA 2016, including:
the new S-Series compact dozers,
SB-85R series pipe layer,
TD-20 Landfill dozer,
TD-25 Mining dozer.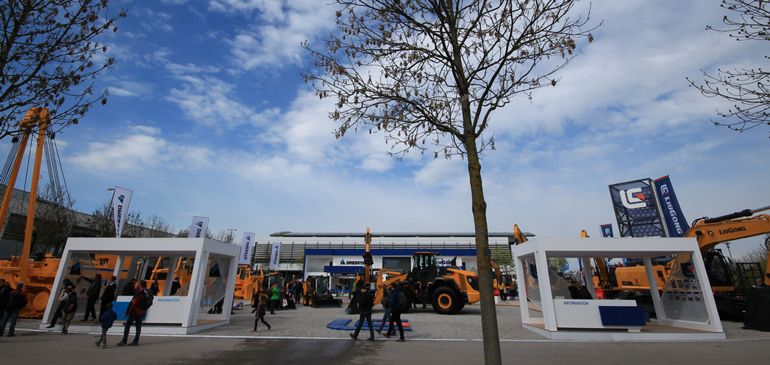 A long-time exhibitor at Bauma, DRESSTA occupied a 2,588m² booth alongside with LiuGong. The company was represented by dealers from around the globe and top DRESSTA managers.

Pipe Dream, Meet Reality
The SB-85M Extra pipelayer is Dressta's largest pipelayer and the first to meet Tier 3 emission standards. It is powered by a powerful Cummins QSX15 engine that delivers 410Hp. Featuring a 2-speed steering system, 7.3m and 9.0m boom options and with a lift capacity of up to 100t, the SB-85 is designed to lift, handle and manoeuvre pipes up to 1.4m in diameter in the most challenging ground conditions. Visiting the SB-85M Extra, everybody could see why DRESSTA pipelayers are the first choice for the construction of gas, petroleum and water pipelines throughout the world
Compact Dozers: Introducing the New S-Series
At the smaller end of the spectrum, Dressta introduced two models from its exciting new fuel-economic range of S-series compact dozers, including the TD-8 forestry and TD-9 landscaping models. Among the key features of the new S-series compact dozers are Tier 4 Final Cummins Diesel engines; an Eco-mode feature that enhances fuel efficiency without sacrificing productivity; a new Cab with 30% more space, 15% extra visibility, a 16" LCD display screen that provides real-time system values for temperatures, pressures; forward/reverse direction shift and ground-speeds ranges; and ergonomic joysticks that ensure precise and smooth controllability. S-series dozers are engineered to optimise versatility, controllability and finish grade accuracy, and are ease to transport.
Special Features Request for Special Application
Dressta is also developing solutions that help customers to achieve more in the jobs they do. With a dedicated team of application engineers Dressta has the unique ability to custom engineer designs, modify standard equipment and attachments to better perform in specific application tasks thus helping customers to improve productivity and bottom line results.
"A refined manufacturing process allows customers to request machine customization according to their preferences. Machines are then tailored to the conditions in which they operate, with precise device configuration and an ease of maintenance that ensure optimal performance and service life" said Chairman Zeng Guang'an.
Visitors could see examples from Dressta's innovative product offerings for the landfill and mining industries, with the purpose-built TD-20 LA landfill dozer and mining specification TD-25R machines exhibited during the show. Featuring powerful Cummins Tier IV final engines, both models incorporate customer-driven design features such as extensive use of guarding to protect hydraulic cylinders, reversible fans, self-cleaning track shoes, reinforced structures, high capacity blades and extreme duty rippers."